Free Drive-Through Testing for COVID-19
Tuesday January 5, 2021
12:00pm to 3:00pm in Coldwater at the BATA Bus Garage at 306 S Clay St. in Coldwater - weather permitting
The Branch-Hillsdale-St. Joseph Community Health Agency (BHSJCHA) has a special opportunity for residents in Branch, Hillsdale, and St. Joseph counties to be tested for COVID-19. On Tuesday, January 5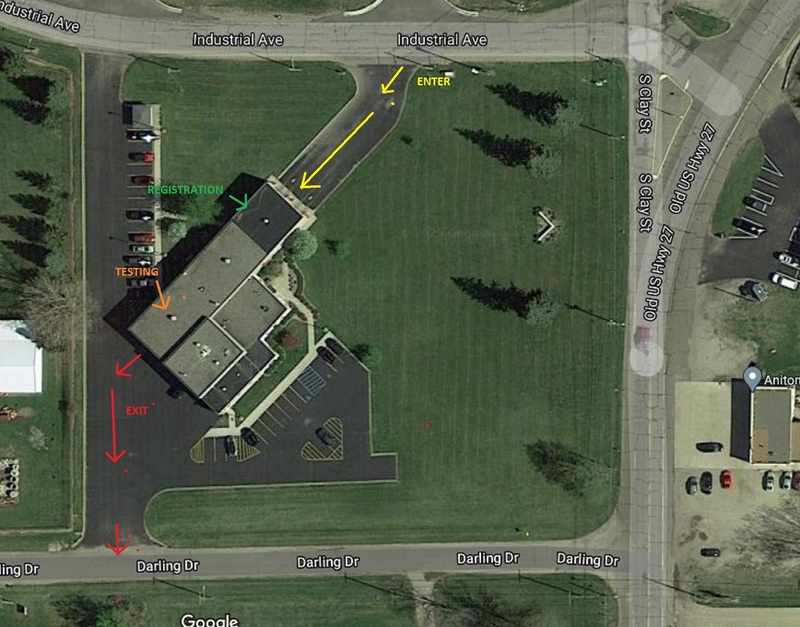 th, BHSJCHA and the Honu will be at the Coldwater BATA Bus Garage, located at 306 S Clay St in Coldwater. Free testing will be done on a first come, first served basis between the hours of 12:00 pm and 3:00 pm.
Testing is available to Michigan residents (with or without symptoms) on a first come, first served basis. Please bring an I.D. Minors can be tested if they are calm and with a parent. State of Michigan is covering the costs of testing at this event. Insurance is not required and no insurance cards will be requested at this event.
Nasopharyngeal tests will be administered to determine whether persons currently have COVID-19. Antibody testing will not be done at this event.
Testing provided courtesy of State of Michigan, Michigan National Guard, Michigan State Police, and BHSJ Community Health Agency.
COVID TESTING PRE-REGISTRATION
Please use the link below or scan the QR code on your mobile device to begin your pre-registration process. You'll be taken to an online form to fill out, sign electronically on your device, and submit. Completing this will greatly speed up the testing process. If you're unable to complete this, we will complete it with you at our registration tent.
Please provide your correct first name, last name, and date of birth as well as a valid email address. Your results will be sent to your email address and you will need to validate your account by entering in your name (first and last) and date of birth
Thank you!
Apple QR Instructions
Open the Camera app from the Home screen, Control Center, or Lock screen.
Select the rear facing camera. Hold your device so that the  QR  code appears in the viewfinder in the Camera app. Your device recognizes the  QR  code and shows a notification.
Tap the notification to open the link associated with the QR  code.
Android QR Instructions
Open your Camera app and point it steadily for 2-3 seconds towards the QR Code you want to scan.
Whenever scanning is enabled, a notification will appear.
If nothing happens, you may have to go to your Settings app and enable QR Code scanning.
If QR Codes isn't an option in your settings, your device unfortunately can't scan QR Codes natively. But don't worry, this only means you'll have to download a free third-party QR Code reader app from the Google Play store.
PRE-REGISTRO PARA PRUEBA DE COVID
Por favor, escanee el enlace de abajo o escanee el código QR en su teléfono móvil para comenzar su proceso de pre-registro. Se le llevará a un formulario sobre internet para rellenarlo, firmarlo electrónicamente en su teléfono móvil y enviarlo. Al completar estos pasos el proceso para su prueba de COVID será más rápida. Si no puede completar esto, lo completaremos con usted en nuestro puesto de registro.
Proporcione su nombre, apellido y fecha de nacimiento correcto, también un correo electrónico válido. Sus resultados se enviarán a su correo electrónico y tendrá que confirmar su cuenta usando su nombre (nombre y apellido) y fecha de nacimiento
Gracias!
http://honumg.info/HillsdaleBATA
Instrucciones Codigo QR para Apple
Abra la aplicación de su Cámara desde la pantalla de inicio, el Centro de control o la pantalla de bloqueo.
Seleccione la cámara. Sostenga el teléfono móvil para que el código QR aparezca en la pantalla de la cámara. El teléfono móvil y la cámara reconocerán el código QR automáticamente y muestra una notificación en la pantalla.
Toque la notificación para abrir el enlace asociado con el código QR.